I wanted to post a little something about the historical post office we got in San Pedro. I been to this post office basically all my life, I used to love going with my dad to go check his P.O box it was really exciting when I was a kid maybe because our post office was so big and one of a kind. I usually go now on a regular basis to buy stamps , drop off letters or make money orders and i realize now that most people don't write letters anymore nor make money orders but i got my reasons for that.Well the other day I went to the post office to pick up Christmas stamps for my 20 thousand cards I will sending out and while inside i thought to check the place out and really look at it. Most post offices are dull government buildings but this one is so historical with its art deco style its amazing they even have a post office museum in the basement and I never really realized that in the second floors there is other business I seen a sign for a few attorneys and even a private eye ooh how exciting lol and a few other things there is a cool mural inside as well and old desks from way back i didn't have my camera with me i just used my cell phone so sorry about shots I also found more information regarding the post office..............
The Federal Building/San Pedro's Post Office The Federal Building/San Pedro's Post Office
Constructed in 1936 as a Public Works Administration project, this building also formerly served as a U.S. Customs Office. It is an example of the WPA Modern style of architecture, a conservative or classized Art Deco. The extensive use of marble, bronze and milk glass are indicative of the period. The floor tile laid in a basket weave pattern surrounded by black marble gives the effect of rugs on a marble floor. Several of the original bronze lamps and ink wells survive at the public writing desks. The mural over the wall at the south end of the building depicting the harbor area's heritage, was also a WPA project. The building has recently undergone a major refurbishment.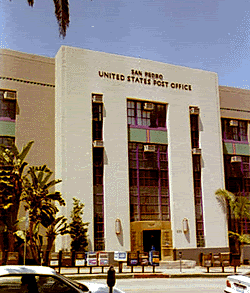 postcard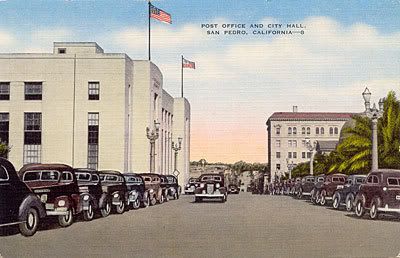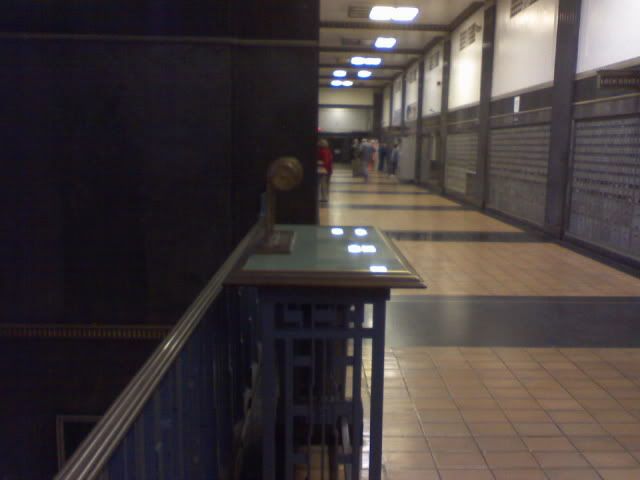 my favorite picture ok the year is hard to see but it says 1956 so this probably scared the shit outta people for stealing federal ballpoint pens !! now thats funny