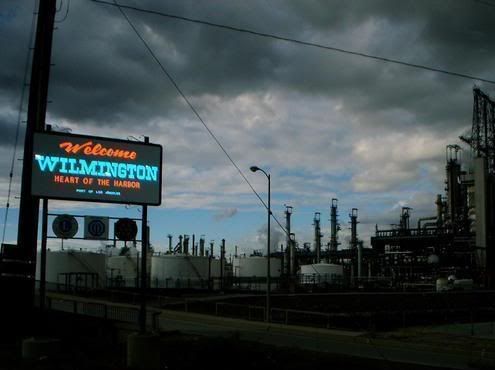 from photobucket.
.
Wilmington " Heart Of the Harbor"
It was a trip when I ran into this recent LA Times article about
Wilmington looking into a
greener future.
I have blogged about Wilmington many times before and how it has been a forgotten town with history. Apparently there are people who are working hard to change that by getting the attention from city hall. There is plans for a park near the port , and a new waterfront project is in the works, much like the waterfront revitalization in San Pedro. A "Green Technology Center" is also proposed and other things of that nature. I mostly displayed post's on here showing the rawness and grittiness of Wilmington. It points out in the story that interesting and familiar views of Wilmington.
"To outsiders who know Wilmington only as a no-man's land of industrial blight and air pollution, that kind of talk might sound preposterous"
They also mention planting more trees even in areas that I did not even like going to like " Ghost Town" which was always known for violence. Last year they raided
Ghost Town's East side Pain
gang known for their crack trade in the area.
The trippy part was the tea shop that just opened up in the area, now that is really a change. The place is called "Ortiz Hojas Premium Tea House". I would never expect that, all could say is "wow" Wilmington will be looking up. Now am I worried about gentrification? not at this point I see the good things happening for the gente that live in the area, not for other people to push them out. Now will I miss junk yards and abandoned lots? yes I will but I think that there is plenty of that still for a long time. I can't hate on the people trying to make Wilmington better it does deserve some kindness. I think I am going to have to pay a visit to that tea shop and check it out maybe I will do a post about it later.
Here are blog posts displaying images of Wilmington.
http://swapmeetlives.blogspot.com/search/label/Wilmington